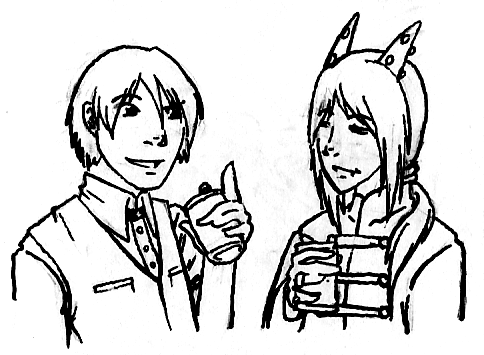 octokiss's Arlen and my Yubon are the "Green Hair Brigade" which I guess means they hang out and have beer sometimes.





A little something for
armaina of her character's taithal version mixed with a Mew.
Just a little something to thank her for making me feel better after a bad day a little while ago.

I feel bad that I totally forgot to scan both of those before now, because I did them weeks ago.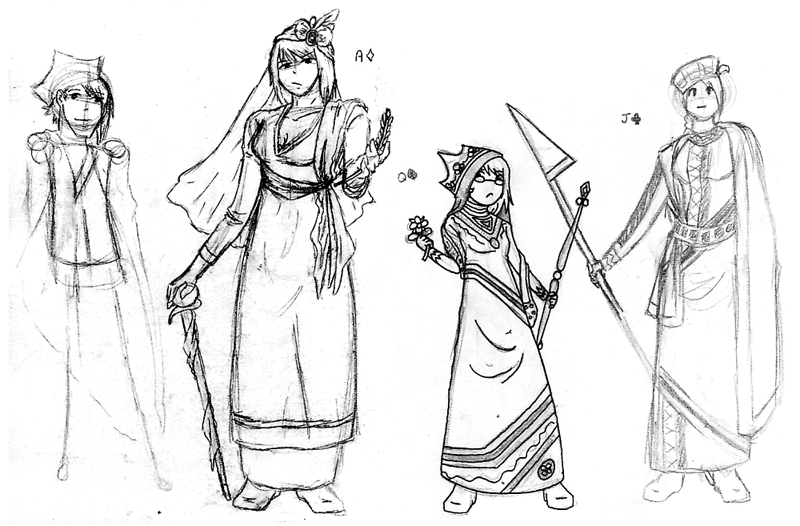 For no reason at all, I drew the main cast of Black Maria dressed as their corresponding cards. Except I never finished Nick because I had just stopped caring by then. These were the bases for the Maria and Lucia figures I made (that did not survive their trip to and from class).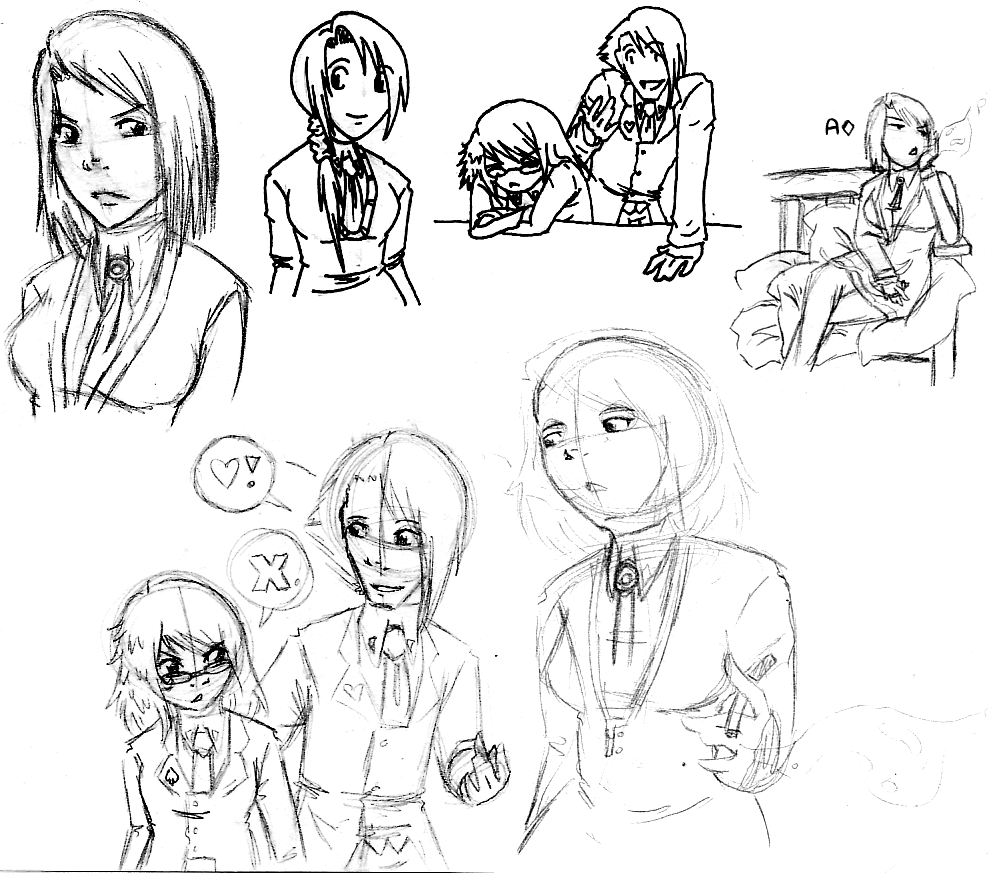 I like having Maria and Nick interacting because he is always so excited and she is always so not.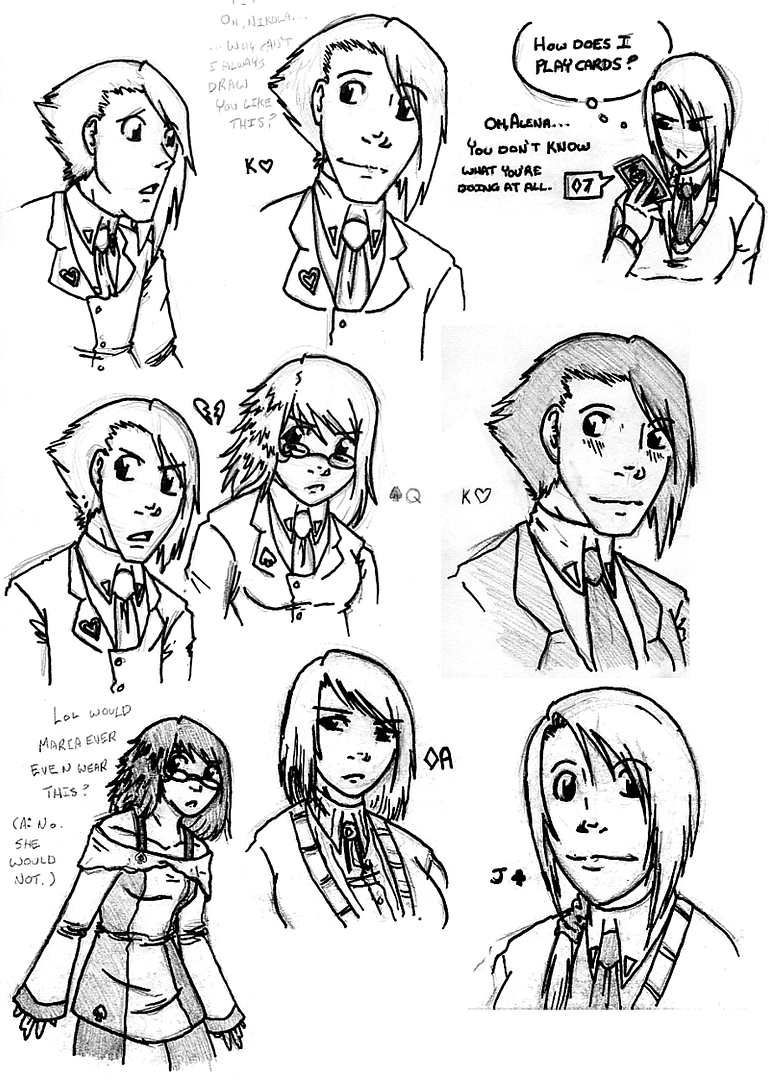 Mostly studies of Nick because he is SO HARD TO DRAW for some reason.
Alena has no idea what the balls she is doing. She is the worst at cards, which is the most hilarious.
Also tried to come up with a casual thing for Maria and it just... failed.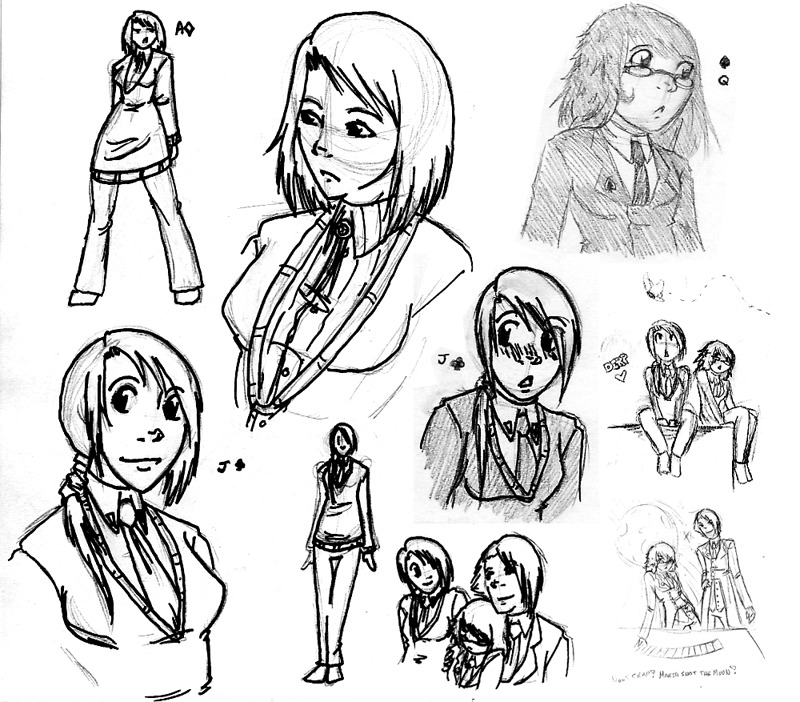 Studies of Alena and Lucia, who are actually related. They are second cousins or something. (Lucia is the cousin of Alena's mom.)
I like drawing everyone's symbols next to them.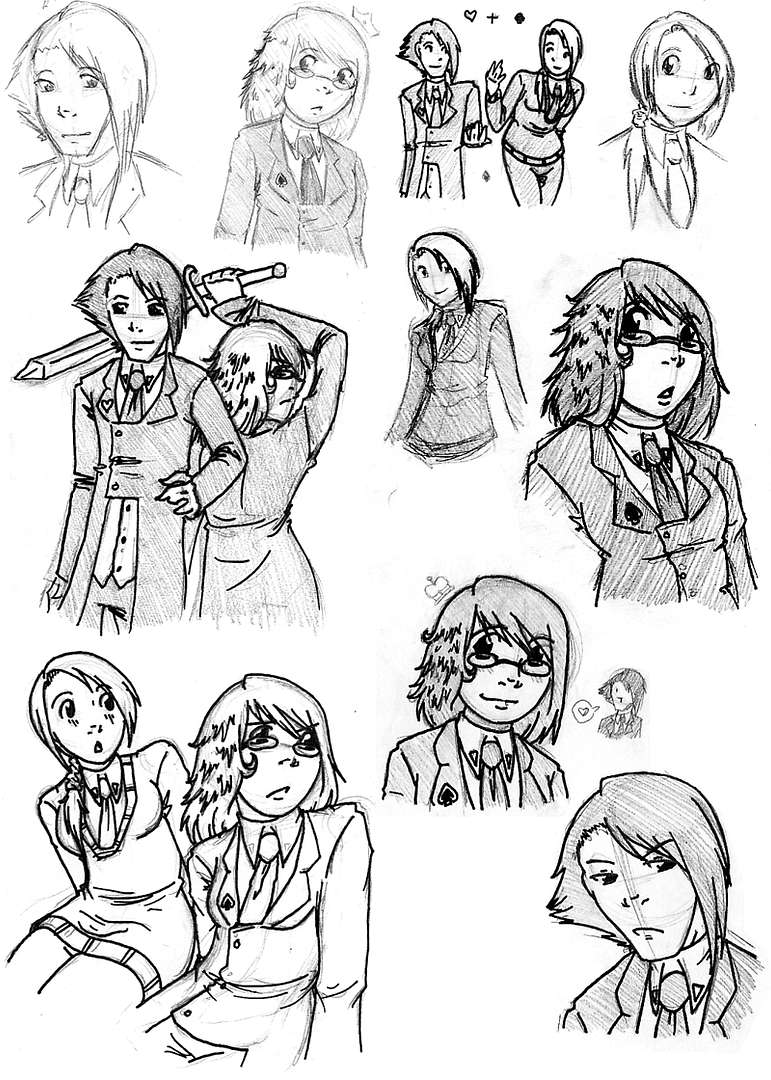 The bottom left drawing of Alena and Maria is probably my favorite Black Maria drawing ever. Maria might be a little too tall, but it is otherwise perfect.
Next to that, Maria and Nick traded default expressions. And then the world ended.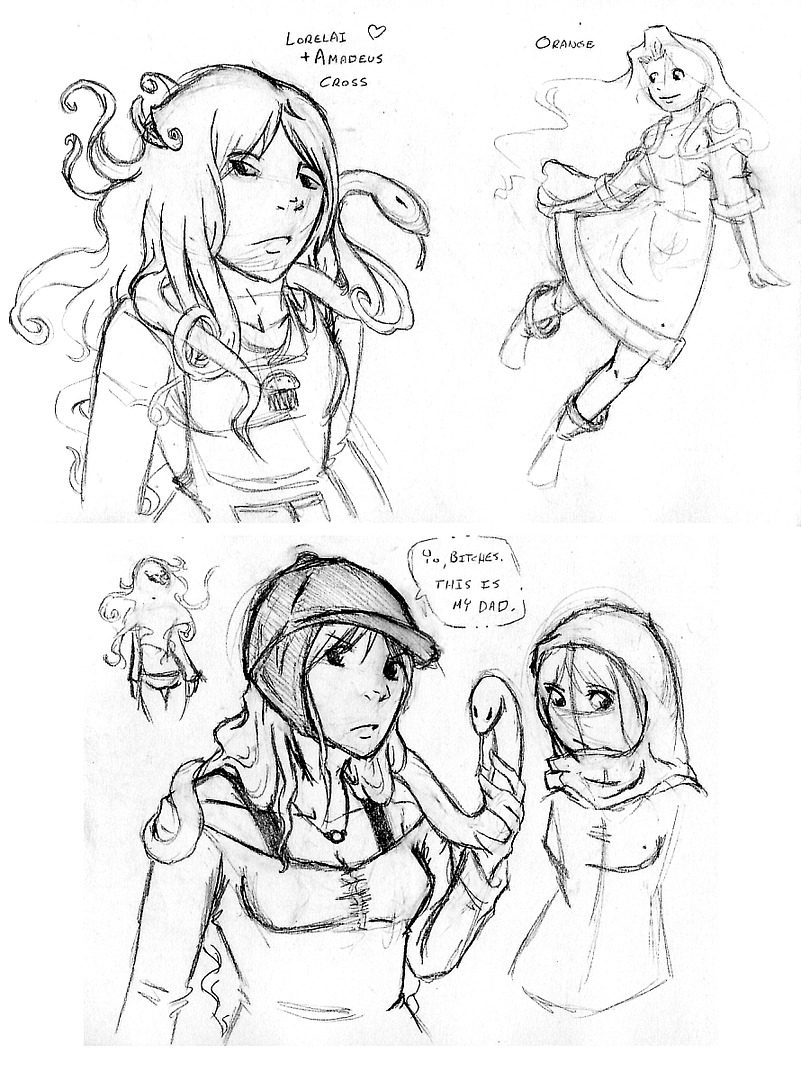 Lorelai Cross is one of my unsung favorite characters of mine. She's Amadeus's daughter. She has a mouth on the back of her head. It likes to eat things (including Amadeus). Orange and Lorelai are sort of almost half-sisters? Or something like that.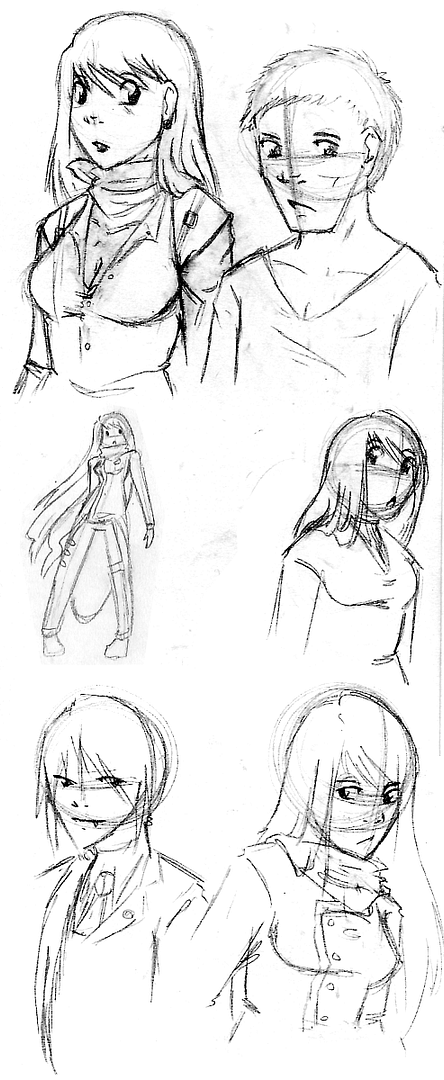 Young Lorena and Ozrin at the top. Idek. I was curious or something. It is probably the most non-canon.
And then I totally forgot what Cero looks like.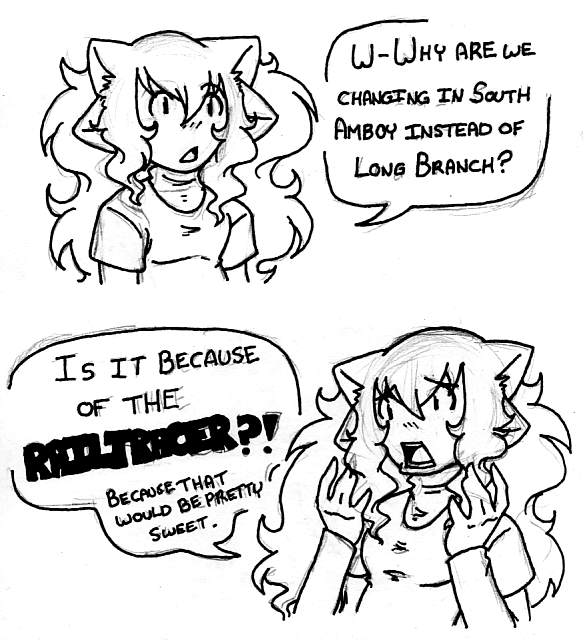 If something about my train ride is abnormal, I tend to blame the Railtracer.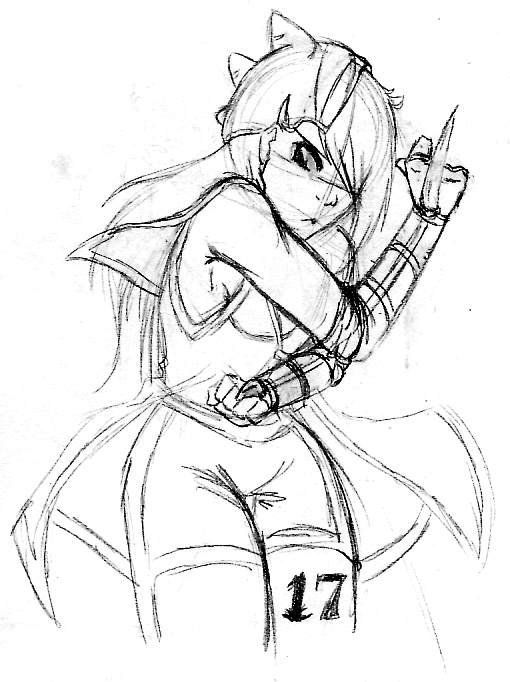 Someone on DA recently really liked Amata and was asking me to draw more of her, so I ended up compelled to sketch her. I'll probably go back and finish this if I've got some free time.





Amphy gets kind of pissed off when people take her clothes. She is a lady of infinite class. And violence. Mostly violence.




I really need to not let my sketchbook pile up. I've been doing stuff in my sketchbook steadily since my last post and it's been almost 2 months since then. So I just have... all this built up stuff.